* Note that the playback function may entail lengthy delays where the writer cogitated. We do try to jump to the point at which composing began, but there is the occasional writer who types a letter and then stops for five minutes. Hang in there.
Mary Jo Salter
We asked Mary Jo Salter to write on the following: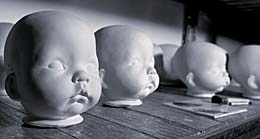 "After careful study and due deliberation it is my opinion the head remains conscious for one minute and a half after decapitation."
--Dr. Dassy d'Estaing, 1883
This week's theme is the epigraph from Robert Olen Butler's amazing new book, Severance.