* Note that the playback function may entail lengthy delays where the writer cogitated. We do try to jump to the point at which composing began, but there is the occasional writer who types a letter and then stops for five minutes. Hang in there.
Andrew Hudgins
We asked Andrew Hudgins to write on the following: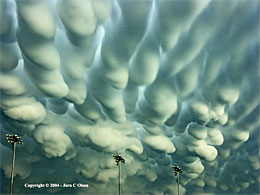 Mammatus clouds over Hastings, Nebraska, 2004. Photo courtesy of Jorn Olsen.
Hamlet: Do you see yonder cloud that's almost in shape of a camel?
Polonius: By the mass, and 'tis like a camel, indeed.
Hamlet: Methinks it is like a weasel.
Polonius: It is backed like a weasel.
Hamlet: Or like a whale?
Polonius: Very like a whale.
-- William Shakespeare, Hamlet